Our December's Open House and Social Networking Evening was a GREAT success. It was filled with a lot of insight and learning. I want to thank Adam Meyer for an intriguing presentation on the "Journey of the Modern Mystic." Adam captivated all of us with his wisdom as he guided us to experience the true nature of self.
If you want to know more about Adam Meyer and his work, read his information below.
The Motivational Institute of Hypnotherapy
Invites you to join us at our
Open House & Social Networking Event
Free Demonstrations, Food, Networking, and Fun!
Thursday December 6th,
6:30PM – 9:00PM
Topic:
"Journey of the Modern Mystic"
Presenter: Adam Meyer, L.Ac, RYT500
Have you ever felt called to something greater? An inner knowing that life is more than it seems? A desire not just to know, but to experience the true nature of self and reality? If you answered yes to any of these questions, and you are reading this now on some sort of technological device, then you just may be a Modern Mystic!
Once upon a time, the same wisdom you now seek was passed down in secret from teacher to student and fiercely guarded from all outsiders. But today thanks to computers and the Internet, on every continent and in every language, this Ancient Wisdom can be yours. No need to climb 100,000 stairs to the mountain temple, or trek deep into the middle of the deserted wilderness. No need to prove your worthiness to or test your readiness with a master. Just simply click and the secrets are yours.
Herein lies the dilemma of the Modern Mystic. With so much information available, and seemingly no requirements on being able to access it, how do we determine what is authentic, what is safe, and what is in the interest of our greater good?
What worked for seekers in the past, no longer works for seekers in the modern world. Instead, we need a new path, a new way. Enter the Journey of the Modern Mystic! In this enlightening and interactive presentation, Adam Meyer will share with you the journey that modern seekers can take to become the best version of themselves by combining ancient wisdom with modern living to become a Modern Mystic!
Topics Include:
What is A Mystic?
The Journey: From Modern Seeker to Modern Mystic
The Mystic Path: Body, Mind, Spirit
How to live a "Mystical" life in the modern world
Tools and Techniques of the Modern Mystic
Please scroll down to read more about Adam and his work.
Join us at our Open House for this fun-filled inspirational evening complete with demonstrations, wine, appetizers, networking, raffle prizes (please bring something to raffle), and good company. Be sure to invite friends!
There will be plenty of time to network with other professionals who are generally interested in the power of positive thinking. Bring plenty of business cards.
Please RSVP with eVite or by emailing me at [email protected].
When: Thursday, December 6thth, from 6:30pm – 9:00pm
Where: 8969 Complex Drive, Suite A, San Diego, CA 92123
Adam Meyer, L.Ac, RYT500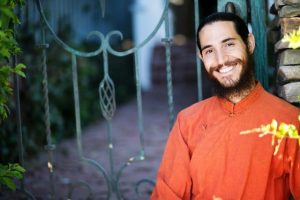 Adam was born with a rare and serious genetic disorder, Gaucher's Disease, and given only six years to live. And so began his Journey into the Mystic.
Adam persevered past that six-year prediction and, for the first 10 years of his life, was a very sick little boy. As he got older, Adam began seeking answers to make sense of his challenging life. The answers came, and Adam found his way onto the path of the Ancient Wisdom and the Journey of the Modern Mystic.
For more than 30 years now he has been walking that path and is ready to share the wisdom he has found.
Adam is a Licensed Acupuncturist & Herbalist, Registered Yoga Teacher, Reiki Master-Teacher, and Non-Denominational Minister. He has studied with a variety of teachers and traditions across the world and fuses his own life experience with this ancient wisdom to create a unique and accessible approach to the Mystical Life. Adam is also the Founder and Lead Instructor of The Ancient Ways Academy and creator of The Modern Mystic Movement.
For more about Adam and his work, visit www.ancientwaysacademy.com or follow him on Instagram @theancientways.