Fire Walking
(COMPLETED)
TURN FEAR into POWER and create powerful moments to make you unstoppable. Fire walking is an activity for realizing that it is possible to do things that seem impossible. It's a metaphor for turning fear and limiting beliefs into power; an experience of renewal shared with others who also seek greatness.
Do you set great intentions for the New Year by mapping out goals and strategies, but have them begin to wean to successfully achieve what you set out to accomplish?
Make this year different than all the others by truly manifesting your desires and goals for this New Year. Renew and retain your focus, reinvigorate your efforts, and strive towards greater success for 2016.
Create momentum that will propel you towards success!
Fire walking creates an environment of closeness. Many cultures throughout the world come together at least once a year to celebrate one's inherent power and renew the focus it takes to achieve what might normally seem impossible. This event helps fuse the mind, body, and spirit into one focus—creating powerful breakthroughs and new energy. In the workshop you will also learn how to eliminate limiting thoughts and beliefs, and to be able to move forward and achieve your desires and goals.
You will learn how to:
Acknowledge personal successes
Manifest your desires and goals
Leave behind any setbacks
Create a new set of possibilities
Let go of limiting beliefs and fears
Recognize powerful breakthroughs
Achieve momentum that will carry your desires and goals through to fruition
Retain the confidence to know now where you will be in one year's time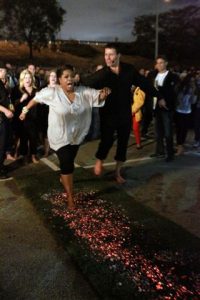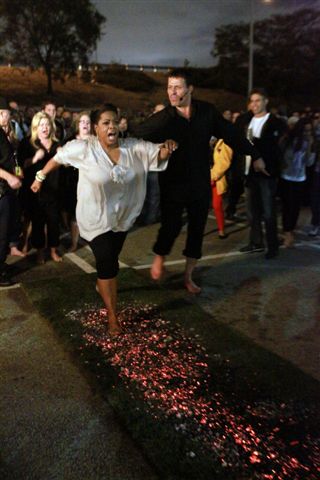 "Fire walking is a self-empowering, motivational activity demonstrating that it is possible for people to do things that once seemed impossible." ~Anthony Robbins
"I have a lot of things to prove to myself; one is that I can live my life fearlessly." ~ Oprah Winfrey (Anthony Robbins' fire walking event in 2012)
Join us for the workshop: "Manifesting 2016 ~ The Best Year Yet!!!"
Fire walking will begin at the conclusion of the workshop, where you will bring all your strategies and aspirations together for 2016 and fuse them as one when you begin walking on the coals.
To Your Success,
Marla Brucker, DCH, R.HA, Motivational Institute of Hypnotherapy
---
San Diego Family Constellations

(COMPLETED)



What is a family constellation?
Family constellations is an experiential way to work with energies that show up in our lives in a variety of ways. This format can be used to uncover hidden or unwritten rules that can be interfering with our lives, families, organizations, businesses, communities, and cultures in which we are a part.
Who can attend a constellation?
If you are interested in personal growth, transformational experiences, and creating a deeper awareness of life–then this group is for you!
This meetup is intended for first-timers and experienced representatives who want to check out and experience this type of work. No experience, special training, or any previous knowledge is required to attend. The facilitator will describe what to expect, and will lead the client, participants, and observers through the whole experience.
Who is Tim Steele, your facilitator?
Tim Steele is a trained constellation facilitator who has been participating in and facilitating constellations for years. He is a change specialist in adult learning and development who helps individuals that are committed to building successful, purposeful AND fulfilling relationships, businesses, and life experiences.
Tim Steele, (415) 407-4073
---
Clinical Use of Subliminal Therapy (COMPLETED)
This course is designed to introduce Subliminal Therapy's wide range of applications in clinical practice. Emphasis will be on conceptual understanding and the practical application of our universally present, yet generally unrecognized, higher level of intelligence.
The course consists of lectures and demonstrations of the principles of Subliminal Therapy, employing volunteers from the class and elsewhere as subjects who present real-life problems. The text for this course is: Dr. Yager's 2011 book: Subliminal Therapy: Using the Mind to Heal.
This workshop satisfies the training requirements for certification in Subliminal Therapy.
Attendees will learn to use the power of the extra-conscious mind to influence outcomes and bring about an exciting new dimension of gratification in helping people achieve relief from negative influence that is the consequence of past experience.
(This workshop does not provide Continued Education Units (CEU's).)
---
Crash Course: Mastering Body Language

(COMPLETED)
Andrew Utley has many backgrounds in the professional and personal development world. While graduating with a Masters degree from San Diego State University in Communication and Psychology, he invested his free time into learning as much as he could about Neuro-Linguistic Programming (NLP), Hypnosis as well as business training and facilitation. His love and passion is studying, learning and teaching about Communication and Psychology in a seminar training environment. As a business consultant, he has worked with a variety of industries but enjoys the thrill of being able to impart specialized knowledge to an audience more than sitting in offices. He's an internationally known speaker, having run large-scale training programs in the United States, Great Britain and Australia.
---
Overcoming PTSD & Anxiety with Dr. Corey Sondrup

(COMPLETED)
For the past eighteen years, Dr. Corey Sondrup has been combining chiropractic, nutrition, and a multitude of energy healing modalities at his clinic, Optimal Health Dynamics, serving Ogden and Park City, Utah.
Dr. Corey has developed several exciting energy healing based techniques which address the physical, emotional, and spiritual components of health. In addition to maintaining a private practice and teaching seminars around the country, Dr. Corey has written four books. Reclaiming Your Power and Mastering Life's Lessons- (Self Help/Personal Growth), Blood Amalgam- (Paranormal/Urban Fantasy) and The Paleo Plus Plan- (Diet/Nutrition).
When he is not practicing, teaching seminars, and writing books, Dr. Corey acts in his limited spare time. He will be in two feature films early 2015. Look for him in the independent film, Speak Low and the feature film, The Man on Carrion Road.
For more information about Dr. Corey Sondrup, go to www.optimalhealthdynamics.com, or look him up on Facebook at Corey Sondrup DC.
---
Feng Shui with Cathleen McCandless

(COMPLETED)
Learn to create peace and harmony in your home and life. Cathleen McCandless will be giving a 6 hour workshop on Feng Shui, an ancient art and science of creating balance and energy.
Cathleen is recognized as one of America's top Feng Shui experts; she is also the author of the best-selling feng shui book, "Feng Shui that Makes Sense; Easy Ways to Create a Home that FEELS as Good as it Looks", and named "The Best Feng Shui Expert in San Diego" by San Diego Magazine.
---
"Mind Over Metal" Spoonbending Workshop

(COMPLETED)
Unleash your hidden powers through psychokinesis
In this incredible hands-on workshop, you'll learn how to access more of your creativity, intuition, and healing abilities as you begin connecting with the 90% of the unused portion of your mind's power. You'll achieve a sense of empowerment which can dramatically revitalize your attitude and your life. Plus, you'll come away with a bent spoon or fork "trophy" to remind you every day of just how powerful you really are!
---
Women's Meditation & Healing Group

(COMPLETED)
Six week series ~ meets Thursdays ~ 6:30 pm to 8:30 pm
Workshop facilitated by Jessica Wilson.
We all deserve the time and space to give to ourselves. Nourish yourself with weekly time for meditation and a supportive community of women. This group will be a safe space for your meditation and healing work. We will begin each group with a guided meditation that will focus on a new skill each week. After working on your own energy through meditation, you will learn a new technique to improve your skills for group interactions. Then we will have to time to 'check in' and share about your week, your insights, and your personal growth. You will learn to receive support and offer positive feedback to others.
---
Healing With Crystals

(COMPLETED)
Crystals have powerful healing energies and can be used for physical, emotional, and spiritual well-being. In this class you will learn how to work with crystals and use them for healing. You will discover how crystals were formed and be introduced to crystals from around the world and their properties. This class will include interactive work with crystals, and each student will receive a crystal kit to work with and take home.