Our February Open House and Social Networking evening was a GREAT success. It was filled with lots of fun, insight, and learning. Thank you Michael Sather for wowing us with such a fantastic presentation with your juggling skills and helping us learn how to unlock the "flow", helping us to create the mind state of optimal living while juggling life.
If you want to know more about Michael Sather and his work, read his information below.
Juggling is a metaphor for life.  What are you juggling in your life?
Have you ever felt like you were giving maximum effort in your life just to keep "everything in motion"?  We're all trying to look for balance in our lives, but sometimes it feels like a constant "juggling act".  Come join us to learn about juggling (in the literal sense) and how this activity can help you gain perspective and understanding of "the illusion of control".  Juggling can be a universal language, active meditation, and an outlet for expressing creativity.  Juggling is a key to unlocking the "Flow", the mindstate of optimal experience.  Come share the life lessons learned from 25 years of juggling.
Benefits of Juggling:
Improves Mental Focus
Improves Dexterity/Coordination
Increases Range of Motion
Improves Visual Acuity
Cross Lateral Connectivity
Alleviates Stress and Anxiety
Helps Control Cravings
Promotes Creative Problem Solving
Have Fun!
Attendees will have an opportunity to witness juggling demonstrations with various props.  There will be an opportunity for attendees to learn the basics of stixplay and how to juggle three balls if interested.
Please scroll down to read more about Adam and his work.
Join us at our Open House for this fun-filled inspirational evening complete with demonstrations, wine, appetizers, networking, raffle prizes (please bring something to raffle), and good company. Be sure to invite friends!
There will be plenty of time to network with other professionals who are generally interested in the power of positive thinking. Bring plenty of business cards.
Please RSVP with eVite or by emailing me at [email protected].
When: Wednesday, February 20th, from 6:30pm – 9:00pm
Where: 8969 Complex Drive, Suite A, San Diego, CA 92123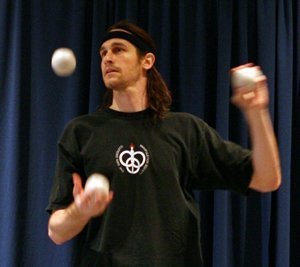 Michael Sather (aka Stixguru) resides in Vista, CA and has been juggling for over 25 years.  He has taught workshops at dozens of juggling conventions around the United States.  He has taught juggling skills to tens of thousands of people, both novices and professionals alike. He is a two time International Jugglers Association Champion in the Individual Prop Competition (2005 – Devilsticks, 2008 – Three Ball).  His instructional film "Stixguru: The Art of Stixplay" has been distributed around the world, influencing a generation of jugglers and flow artists.
Play every day.  Go with the FLOW!