June Open House
Our June's Open House and Social Networking evening was a GREAT success. It was filled with lots of fun, insight, and learning. Thank you Sean Stewart for inspiring us with your amazing poetic rapping; along with your wisdom and knowledge in helping us find our X-Factor. The creative flow of your presentation helped us all feel more connected with you and each other.
If you want to know more about Sean Stewart and his work, read his information below.
Enjoy the pictures
The Motivational Institute of Hypnotherapy
Invites you to join us at our
Open House & Social Networking Event
Free Demonstrations, Food, Networking, and Fun!
Thursday June 20th, 6:30PM – 9:00PM
Topic:
"Find Your X-Factor"
Presenter:
Sean Stewart
In my own life as a business coach, I spent 7 years trying to "act like a professional business coach" but my true background (and nature) was that of an artist. As a spoken word artist and freestyle rap performer for over 20 years, I was an entirely different person when on stage or with a microphone in hand than I was when serving clients. The latter was a heavy experience, an expectation I felt I needed to fulfill. I feared the consequences of a paying client finding out I was a rapper. But when I got to the point where closing my business (and going back to a JOB) sounded like the best option because of the weight of this mask–and the exhaustion of 'pushing' my way to success from an inauthentic core–I made a choice that would change everything. I decided to bring the rapper into the business coaching world and merge those two roles into one.
From there a new experience of business and life emerged. Not only did business come more easily (because I was super unique in my space as a rapper/coach), but I also experienced a new level of aliveness and passion. A deeper message behind my purpose emerged… to help people drop the masks and become whole… and help them birth the unique purpose that emerges from that transformation.
In this talk you will learn:
How to find the 'missing ingredient' to your most explosive and expressive self and integrate that daily so you can open up new levels of passion and purpose.
How to be unapologetically you and break free from the people pleasing pattern once and for all.
How to go from a life that is 'a means to an end' to 'a life aligned with your greatest purpose' and how to actualize that purpose now.
How to reconnect to the creative part within you (even if you don't see yourself as creative) so you can innovate the masterpiece you are here to create.
Please scroll down to read more about Sean and his work.
Join us at our Open House for this fun-filled inspirational evening complete with demonstrations, wine, appetizers, networking, raffle prizes (please bring something to raffle), and good company. Be sure to invite friends!
There will be plenty of time to network with other professionals who are generally interested in the power of positive thinking. Bring plenty of business cards.
Please RSVP with eVite or by emailing me at [email protected]. Or call: (858) 587-0422
When: Thursday, June 20th, from 6:30pm – 9:00pm
Where: 8969 Complex Drive, Suite A, San Diego, CA 92123
Sean D. Stewart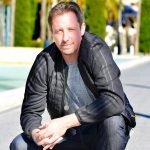 Sean is a transformational business coach, visibility expert, and speaker who helps visionary entrepreneurs build a fully expressed, high-impact, freedom-based business around their core genius. He is the founder of The Creative Track and the creator of the Rock Your Gift 5-Day Visibility Challenge. He's been featured on NBC, FOX and The New York Times and shared stages with some of the biggest leaders in the personal growth and business industries such as Les Brown, Lisa Sasevich, and Christian Mickelson. Sean was originally trained by Tony Robbins and has a background as a spoken word poet, songwriter, and rapper. Sean electrifies audiences in his live events, workshops and coaching programs, bringing a fresh approach to the transformation and business industries and inspiring all who witness him to higher levels in life and business. In an over-saturated coaching industry where many coaches sound identical to others, Sean stands out as a unique voice with an uncompromising commitment help others build a business around their most authentic self. For more information go to: