Our June's Open House and Social Networking Evening was a GREAT success.  It was filled with lots of fun, insight, and learning. I want to thank Martine Wilson for sharing her amazing knowledge and passion on raising Monarch Butterflies. Her inspiring presentation was truly captivating.
If you want to know more about Martine Wilson and her work, read her information below.
Please enjoy some of the Open House pictures.

The Motivational Institute of Hypnotherapy
Invites you to join us at our
Open House & Social Networking Event
Free Demonstrations, Food, Networking, and Fun!
Tuesday June 19th, 6:30PM – 9:00PM
Topic: "How to Raise Monarch Butterflies" (Indoor and outdoor)
Presenter: Martine Wilson
Come join other nature enthusiasts and learn how easy it is to raise butterflies yourself or how to provide the necessary flora to nourish them.
As a Reiki Master, Martine helps facilitate life force energy that assists with flourishing and multiplying the growth of butterflies. She will also do a short meditation in grounding you within yourself and with nature to help you better connect with the caterpillars.
Summer is almost here and the enduring symbols of the season are appearing everywhere: butterflies. Monarch butterflies, in particular, are the some of the most recognizable species we have here in our own backyard.
These intriguing creatures face a variety of challenges, now and in the foreseeable future, from environmental degradation, predators, and disease. Learn how you can take some simple steps to help by actively raising caterpillars in a protected habitat, thereby avoiding the use of dangerous pesticides and artificial fertilizers.
Butterflies are important pollinators and an integral part of San Diego's diverse, colorful ecosystem, let's join together to help increase their survivability and boost the overall population.
Please scroll down to read more about Martine and her work.
Join us at our Open House for this fun-filled inspirational evening complete with demonstrations, wine, appetizers, networking, raffle prizes (please bring something to raffle), and good company. Be sure to invite friends!
There will be plenty of time to network with other professionals who are generally interested in the power of positive thinking. Bring plenty of business cards.
Please RSVP with eVite or by emailing me at [email protected]
When: Tuesday, June 19th, from 6:30pm – 9:00pm
Where: 8969 Complex Drive, Suite A, San Diego, CA 92123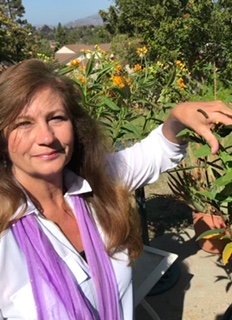 Martine Wilson
Holistic Health Practitioner
CMH, CMA, CMT, CNC
Reiki Master and Teacher
www.Avalonzen.com
Growing up in Zimbabwe and South Africa sparked a deep love and fascination of the natural world. Martine's introduction to caterpillars started at the age of 9 when she was given some silk worms as pets. Her passions led her to careers and volunteer opportunities that spanned the microscopic and macroscopic world. She worked in a microbiology laboratory at a hospital in South Africa and in the macroscopic world as an educator for the endangered Florida panther, a local ecological reserve docent, and an animal advocate for various rescue societies and humane societies.
Today, Martine specializes in holistic medicine, specifically healing energy modalities, such as Reiki, sound therapy and vibrational medicine. She became a Reiki Master in 2006; she is in private practice along with teaching Reiki levels 1 and 2. Martine is passionate about sharing her gifts by facilitating life force energy on people, animals, insects, and plants.