A Special Thanks…
Our June Open House/Social Networking evening was a great success! We want to thank Cynthia Clark for sharing her amazing knowledge on how to "Raise Emotional and Vibrational Wellness with Essential Oils." Her presentation was as lot of fun and very informative as she explained how these powerful oils can help achieve emotional and energetic balance.
We hold these events five times a year. Our next Open House will be in the middle of September. Check out our website to keep informed. If you're interested in presenting in future events, please contact me at [email protected]
| | |
| --- | --- |
| Christa and Cynthia, our presenter | Sampling the Essential Oils |
| Elaine, Marla, Cynthia and Andrew | Cynthia Clark presenting on Essential Oils |
| During the raffle with Elaine, Josh and Andrew | Sarah, Martine, Marla, Cynthia, Mousqa and Andrew |
More and more people are coming to understand that ultimately everything is energy. The food we eat, the thoughts we think…even our emotions have a vibrational currency. Essential oils are an extremely effective way to raise your vibration and instantly enhance your mood and support your emotional well-being.
Join our presenter Cynthia Clark as she explores and explains how these powerful drops of love can help you achieve emotional and energetic balance on a day-to-day basis.
Join us at our Open House for this inspirational evening complete with demonstrations, wine, appetizers, networking, raffle prizes (please bring something to raffle), and good company.
There will be plenty of time to network with other professionals who are generally interested in the power of positive thinking. Bring plenty of business cards.
We're looking forward to seeing you. Be sure to invite friends!
When: Thursday June 23rd from 6:30PM – 9:00PM
Where: 8969 Complex Drive, Suite A, San Diego, CA 92123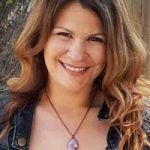 Cynthia Clark is a Certified Clinical Hypnotherapist through the Motivational Institute of Hypnotherapy, a Reiki Master/Teacher, Advanced Theta Practitioner, and Essential Oil Educator.
At a young age Cynthia discovered how sensitive she was to energy, and that she was able to feel others' emotions instantly. What felt like a curse for many years has blossomed into her own path of wellness and an uplifting career. The power of hypnosis, energy work, and essential oils have all contributed to Cynthia's realizing her dream—to always use her intuition and sensitivity to help others create their ultimate selves.
Cynthia's contact information:
www.SDHypnoReiki.com
Facebook: www.facebook.com/HypnoReikiWellness
Instagram: Energy_Mind_Oils_Cyn
* Disclaimer: Results may vary from person to person.