Our April 16th Open House and Social Networking evening was a GREAT success. It was filled with lots of fun, insight, and learning.  Thank you Nancy De Andrade for captivating us with your knowledge and wisdom of Pranic Healing; and by showing us how to bring more balance into our lives.
If you want to know more about Nancy De Andrade and her work, read his information below.
Enjoy the pictures
The Motivational Institute of Hypnotherapy
Invites you to join us at our
Open House & Social Networking Event
Free Demonstrations, Food, Networking, and Fun!
Tuesday April 16th, 6:30PM – 9:00PM
Topic: "Clear Your Energy with Pranic Healing"
Presenter: Nancy De Andrade
In this brief introductory presentation you will learn the basic of Pranic Healing and practice Twin Hearts Meditation, a simple yet powerful meditation that connects us to that universal energy and raises our awareness to cosmic consciousness.
Pranic Healing is a powerful no-touch technique that gathers Life Force (Prana) from nature to treat physical, emotional and mental illness. Developed by Master Choa Kok Sui, this healing method uses the body's innate ability to heal and nature's universal life force to bring the body back to its natural state of health.
Pranic Healing works on the principle that the healing process is accelerated by increasing the life force or vital energy on the affected part of the physical body. It is based on the fundamental principle that the body is a self-repairing living entity that possesses the innate ability to heal itself.
During this introduction, you will:
Learn what Prana is
Learn how to feel/see Prana
Learn the principles of Pranic Healing®
Experience how your actions and thoughts affect energy
Learn a healing technique you can use now"
Please scroll down to read more about Nancy and her work.
Join us at our Open House for this fun-filled inspirational evening complete with demonstrations, wine, appetizers, networking, raffle prizes (please bring something to raffle), and good company. Be sure to invite friends!
There will be plenty of time to network with other professionals who are generally interested in the power of positive thinking. Bring plenty of business cards.
Please RSVP with eVite or by emailing me at [email protected].
When: Tuesday, April 16th, from 6:30pm – 9:00pm
Where: 8969 Complex Drive, Suite A, San Diego, CA 92123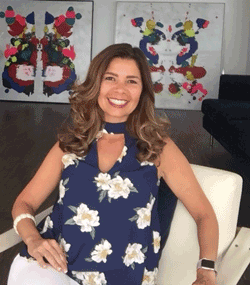 Presenter: Nancy De Andrade
Dr. Nancy is a holistic transformational coach with a PhD in Clinical Psychology and extensive training in alternative modalities of healing. Drawing from her innate ability to cope with difficult experiences and endless research for the key to inner peace, Dr. Nancy has gained vast knowledge and wisdom of natural methods of achieving inner stillness and serenity.
Her work is dedicated to sharing this knowledge with others and bridging the gap between science and spirituality. Her gift is in communicating intricate concepts and ideas in creative ways that helps people recognize and reconnect to their authentic nature and inner resources so they can too experience inner peace.
At La Perla de La Jolla, she leads monthly healing meditations, lectures, workshops, and classes to help people discover and cultivate stillness, confidence, self-love and connection with their inner wisdom and power.
In her individual coaching sessions, Dr. Nancy brings into action leading-edge, intuitive techniques that expand the mind and awaken to a more conscious and peaceful way of living.
For more information follow her at www.NancyDeAndrade.com